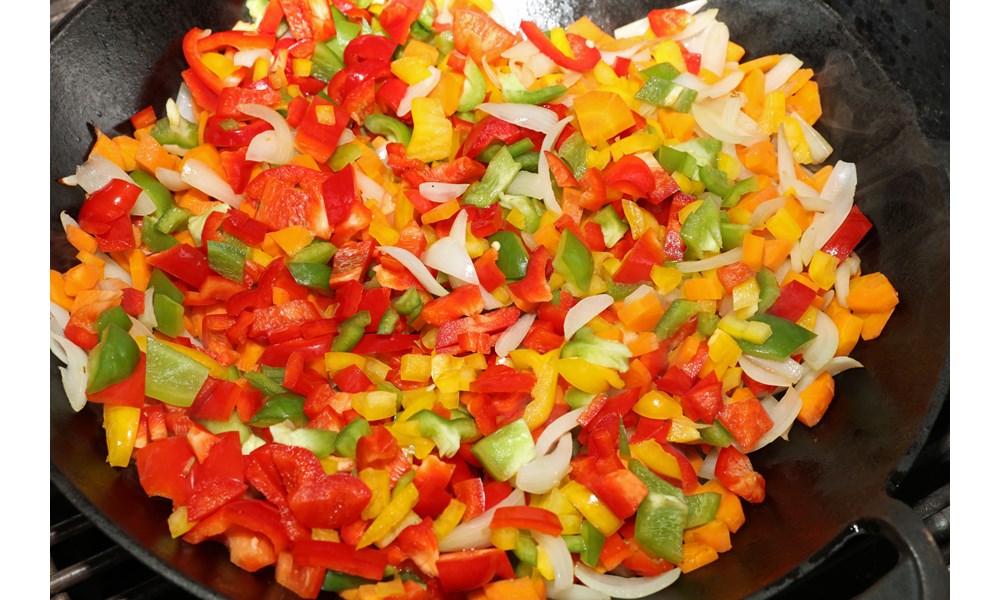 Stir-fried vegetables can be prepared in minutes, and they're a great way to use up the vegetables in your refrigerator. You chop or slice all the ingredients, place them in a wok and stir-fry to perfection.
Any fresh vegetables can be used but have a mix of colors to create a contrast in the dish. At Len Stoler Hyundai, we start with the garlic, onions and a little seasoning and then throw in the harder vegetables such as carrots.
The vegetables can be stir-fried using oil, or create your own stir-fry sauces with cornstarch, water, liquid honey, soy sauce, herbs, spices, seasonings, vinegar, and wine to bring that extra something to make your stir-fry dish unique.
INGREDIENTS
Remember any vegetables can be used; this recipe is to get you started!
1 small carrot
1 medium onion
1 clove garlic
1 red pepper (capsicum)
1 yellow/orange pepper (capsicum)
1 green pepper (capsicum)
4 medium mushrooms
100 gm bean sprouts
3 slices root ginger - optional
Handful cashew nuts - optional
2 tablespoons olive oil
Water to hand
Salt and pepper
EQUIPMENT
Wok
Long-handled wooden spoon
Chopping Board
Colander
Sharp Knife
PREPARATION TIME – 10 minutes
COOKING TIME - 10-15 minutes
METHOD
1) Prepare the vegetables by peeling the carrot, onion and garlic, wash the peppers and wash or peel the mushrooms, rinse the bean sprouts.
2) Switch on stove, let it get hot.
3) Chop the carrot into 'Julienne' strips, slice the onions, chop and crush the garlic to release flavour, slice the peppers and mushrooms.
4) Once stove is hot, add oil and seasoning to wok and place on stove and keep a close check on the oil to ensure it doesn't burn.
5) Test the heat by putting in a piece of onion to see if it sizzles. If it does add the sliced onion, garlic and a little salt and pepper; let these seasonings sit for a little while, then and add carrots.
5a) (You can add meat at this stage.)
6) Stir-fry for approximately 2-3 minutes, stirring with a wooden spoon.
7) Add peppers and mushrooms and stir for 1 minute.
7a) (Add prawns if required at this stage.)
8) Add bean sprouts and sliced ginger.
9) Continue to stir and fry for 3-5 minutes depending on your preference for crunchiness; add a little water to help steam the vegetables.
10) Add cashew nuts and continue to stir for 2-3 minutes. If the mixture looks dry add a little more water, approximately up to 10 mls and stir.
11) Taste-test and if required, add seasoning or soy sauce.
12) Ensure that all ingredients are hot and serve on a white or cream serving dish to contrast the colors of the vegetables and serve immediately.
This is a wonderful dish for experimenting with; so buy a wok, get stir-frying and surprise yourself, family, and friends with delicious and nutritious dishes that are quick and easy to make!